Athens
/
Excursions from Athens
5x Excursions from Athens
The best tours around Athens and day trips in Greece

All info about tours, day trips and excursions in the Athens area. Tips for fun activities and things to do in Greece can be found here:
5 Tips for day trips from Athens
There is so much to see and experience throughout Greece. During a trip to Athens you may therefore also want to see some sights outside the city. With these excursions and day trips you travel within a day to other parts or islands of Greece and you can see all the highlights accompanied by a guide. We have listed the 5 best tours from Athens for you:
1. Excursion Delphi (182 km)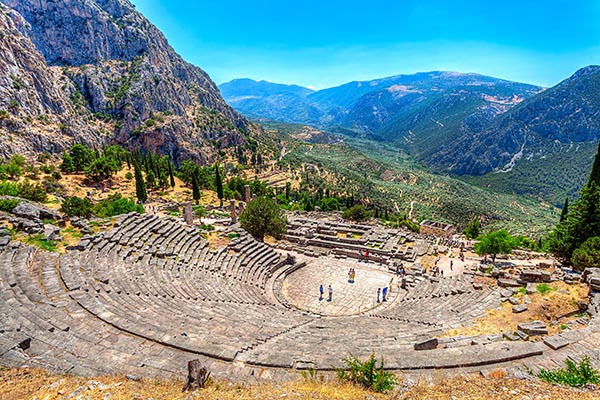 Day trip to the amphitheater of Delphi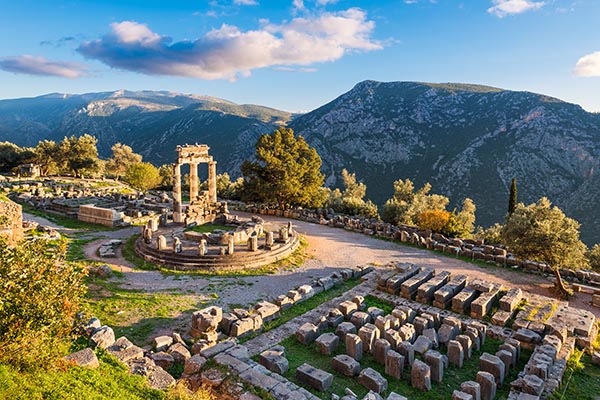 Delphi, one of the most popular excursions from Athens
When visiting central Greece, you can hardly miss Delphi. This area is located against a mountain and consists of various archaeological sites. The Oracle of Delphi used to be here. For a long time, this determined the fate of the Greek world. At Delphi you can find the Temple of Apollo. Of this temple, six columns are still standing. This used to be a fortune-telling place. The Tholos, which is dedicated to the goddess, is also located here. This round temple once had 20 columns, but three are still standing. You will also find a theater and an archaeological museum here. If you are staying in Athens, you can book this day trip to Delphi. The entire Delphi day trip from Athens usually takes around 10 hours. There is a guide to accompany you to the various archaeological sites. On the return journey, some excursions will stop in the village of Arachova, where you can take beautiful pictures (more info & bookings Delphi tour from Athens).
2. Cape Sounion & Temple of Poseidon (62 km)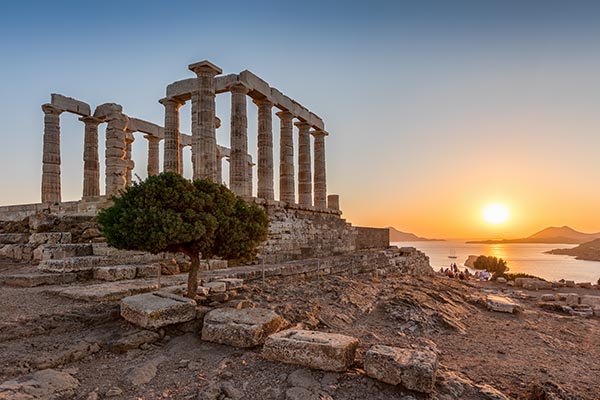 Day trips from Athens: Sunset at Cape Sounion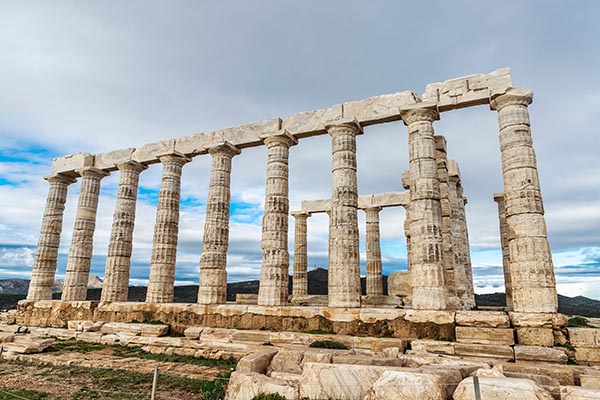 Excursion to the Temple of Poseidon
Cape Sounion is a famous crag with a view over the Aegean Sea. The highlight of a visit to Cape Sounion is the Temple of Poseidon. This temple is named after Poseidon, the God of the Sea. Many famous writers and poets have placed their signatures on this temple. During this sunset trip from Athens you can even watch the beautiful sunset at Cape Sounion. During this Cape Sounion excursion there will also be a guide who will tell you more about the history of the places you visit. From Athens you will depart by bus to Cape Sounion.
3. Saronic Islands: Hydra, Poros and Aegina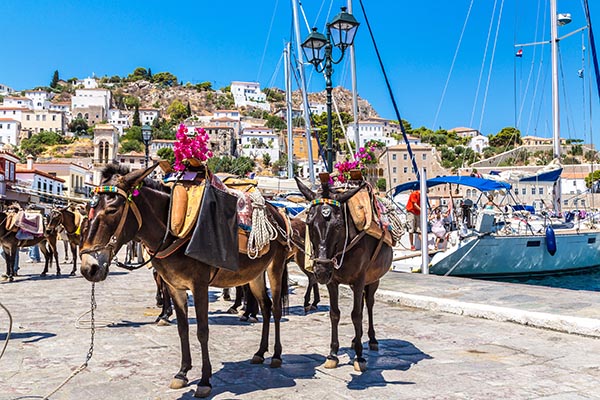 Athens excursions: Hydra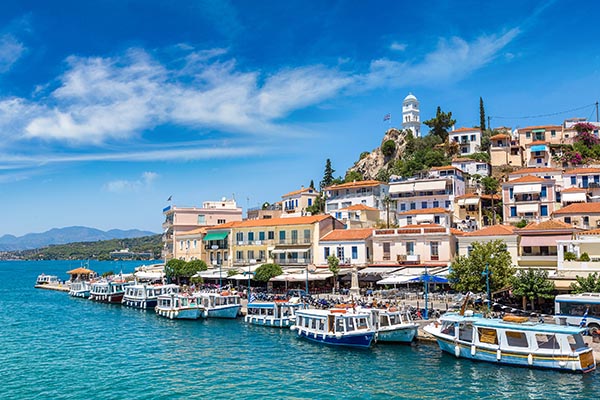 Poros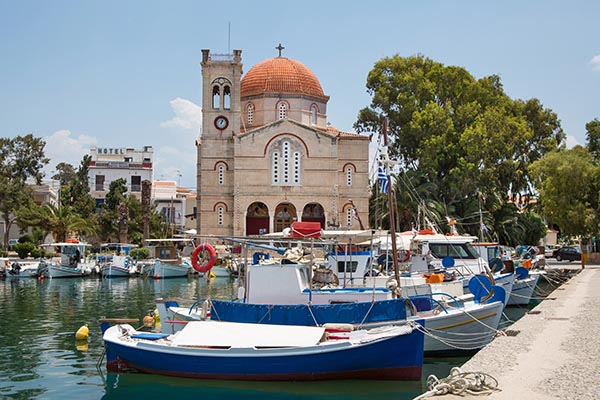 Aegina
From Athens you can also easily visit the Saronic Islands: Hydra, Poros and/or Aegina. You can even discover all three islands in one day by taking a boat tour (more info and bookings 3 island tours). You can take a bus from Athens to the port where you will board a luxury boat. From the ship you have a beautiful view of the various islands throughout the journey. At each island you have enough time to discover the area yourself. Most tours start with Poros Island, followed by Hydra Island. Here you can explore the island by donkey or walk through the cozy streets yourself. The last island is Aegina, which you can also easily visit as a day trip from Athens by ferry (book your ferry tickets here). This is the largest island where most of the sights are. You can also visit the Temple of Aphaia here.
4. Mycenae, Epidaurus & Nauplion (126 km)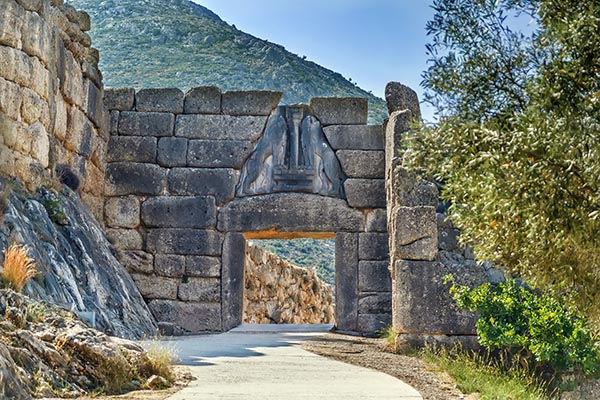 Athens day trips: Mycenae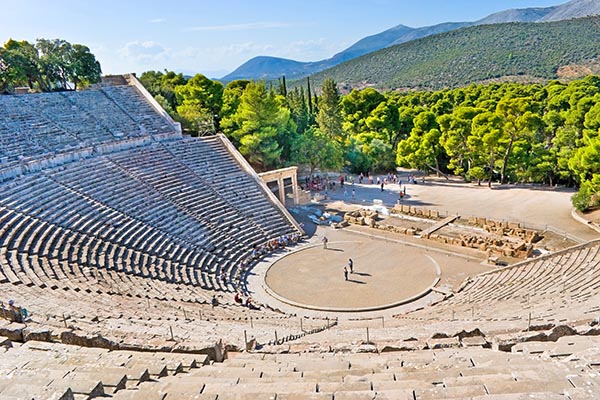 Epidaurus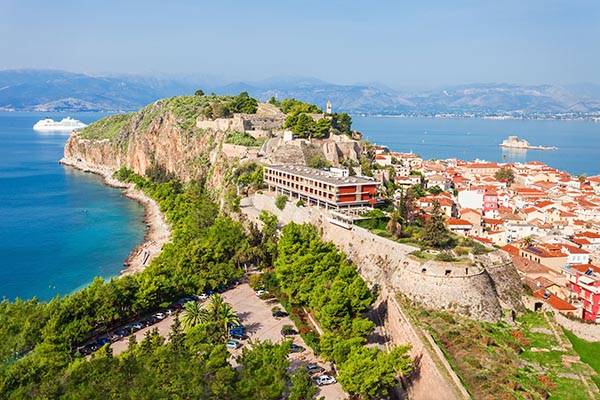 Nauplion
Argolis is located on the Peloponnese peninsula, where many archaeological sites can be found. During this day trip you can visit all the important highlights. For example, with a bus you can drive along the coast to the Corinth Canal. Here you first arrive at Mycenae. Here you will visit the Lion Gate and various royal tombs. Then you continue to the city of Nafplion, where there is a lot to see. In the pleasant center you will find beautiful monuments as well as cozy shops and terraces. You will also visit the famous theater of Epidauris. This circular theater was built in the 4th century BC and is still well preserved. During this Mycenae, Epidaurus & Nauplion excursion from Athens with a comfortable bus, a guide will accompany you who will tell you information about all the sights.
5. Monasteries of Meteora (354 km)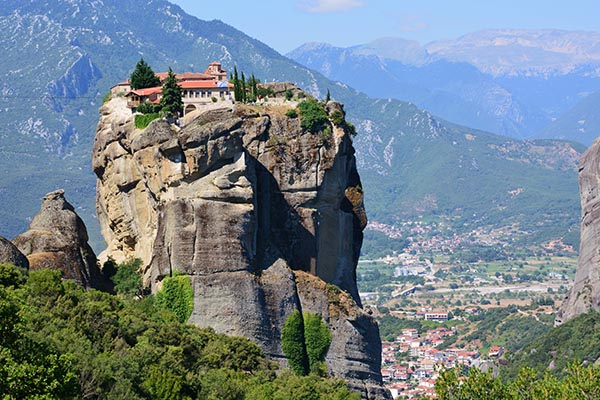 Monasteries of Meteora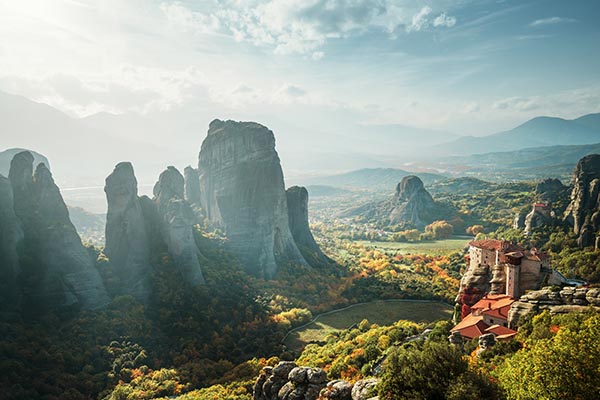 Meteora, a top attraction in Greece
The Monasteries of Meteora are located in Kalambaka. These monasteries are located in the mountains and provide a beautiful picture. Today there are still six monasteries where monks actually live. Four of the monasteries also have museums and are equipped for tourist visits. This area is rich in history and you can learn a lot about the way of life of the monks. This Meteora excursion from Athens will take a full day. You have to travel by train to Kalambaka and on the way you can enjoy the beautiful landscapes in the mountain area. On arrival you can visit the monasteries led by a guide (more info and bookings Meteroa tour).

Our readers say
4.8
(95.85%)
7
reviews
July 11, 2023
Ryanne

: "

We had a fantastic holiday in Athens and Greece because of the interesting tips for sightseeing, tourism and activities in Athens.

"