Athens
/
Attractions
/
Syntagma Square
Syntagma Square Athens
Square with parliament building and traditional guards

Syntagma Square is the large central square of Athens with the parliament building and where traditional soldiers guard the Tomb of the Unknown Soldier.
Syntagma Square
The Syntagma Square (or Platía Syntágmatos) is the largest square in the modern part of the city of Athens. It is often very busy here because it is a well-known roundabout where major roads intersect and many buses and trams start and end here. It is also an important square for politics in Greece. The parliament building is located here. That is why there are often demonstrations on this square.
The square was created in 1834 when King Otto had the new Royal Palace built. After several fires broke out in the palace, it was no longer suitable as a residence for kings. This palace was then designated as a parliament building after the works. Excavations have shown that a cemetery used to be located on this square.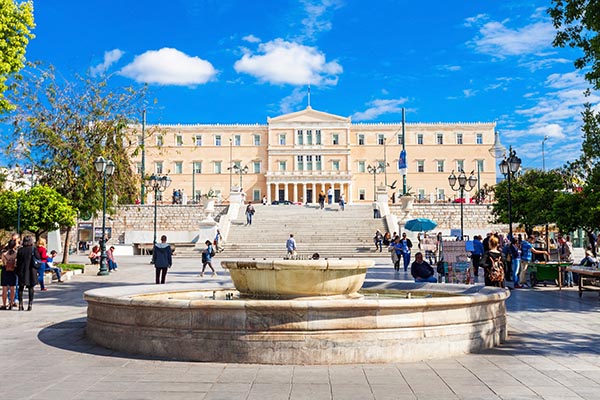 Greece's Parliament Building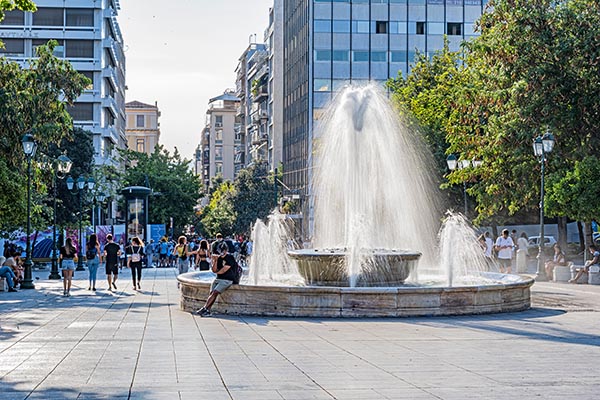 The busy shopping street starts from Syntagma Square
Tomb of the Unknown Soldier
At the front of the building is the 'Tomb of the Unknown Soldier'. This grave symbolizes all Greek soldiers who died during wars and conflicts. This is also where all commemorations are done. Here the so-called Evzonen keep watch. These are soldiers who wear a traditional uniform. There is a changing of the guard every hour. This always attracts many visitors. The most spectacular Changing of the Guard is every Sunday at 11am. New wreaths are then placed at the grave.
The metro station at Syntagma Square is perhaps the most special in all of Athens. Here you can view excavations and finds that were found during the construction of Syntagma Square. These finds are exhibited in showcases in the metro station.
Changing of the guard at Syntagma Square in Athens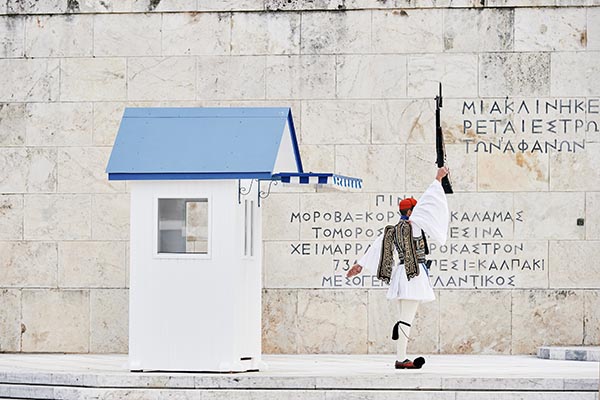 Guard at the Tomb of the Unknown Soldier
---
Where is Syntagma Square?

Our readers say
4.8
(95.85%)
7
reviews
July 11, 2023
Ryanne

: "

We had a fantastic holiday in Athens and Greece because of the interesting tips for sightseeing, tourism and activities in Athens.

"