Athens
/
Attractions
/
Lykavittos
Lykavittós Athens
With a funicular to the highest hill in Athens

Take a funicular to the highest hill in Athens, Lykavittós ('Lycabettos'), and enjoy the beautiful panoramic view.
Info funicular of Lykavittós

Accessibility
The boarding point of the funicular (Teleferik) is at the intersection of Ploutárchou et Aristippou street (in the Kolonaki district). The nearest metro station is Evangelismos.
Hours
The funicular runs 365 days a year from 9:00 am to 1:30 am (in winter the service sometimes stops earlier). The funicular runs at least every 30 minutes and every 10 minutes during busy times. The ride itself over 210 meters takes only 3 minutes.
Tickets
A return ticket costs 7.50 euros, a one-way ticket 5 euros. Tickets can be bought on the spot at one of the machines (these only work with cash).
View from Lykavittós
The Lykavittós is the highest hill in all of Athens with a height of 277 meters. This hill is named after the wolves that originally lived on this hill. Despite being the highest hill in Athens, it is not very popular in Greek classical literature. There are almost no references to it.
You can climb this hill by foot by using several footpaths. This is a tough climb through the winding steps on the hill. Not interested in this? Then you can also go up with a funicular (and possibly descend on foot). You then get on at Ploutárchou street. In summer, a funicular will go up every 10 minutes. In the other months this is every 30 minutes.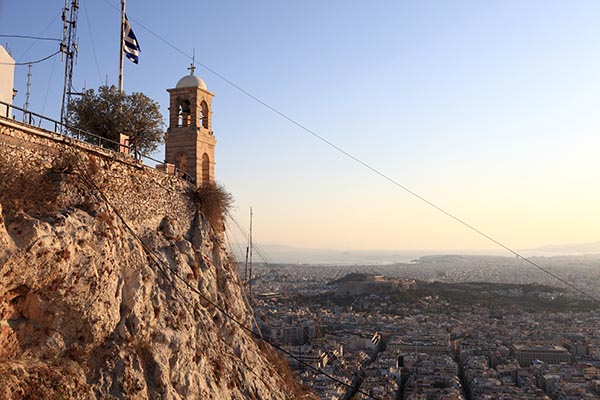 View from Lykavittos Hill in Athens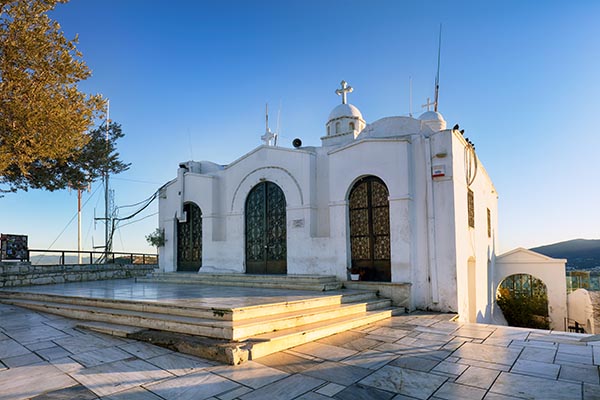 The White Chapel on the Hilltop
The view on top of this hill is of course phenomenal. You can see the whole city as this is the very highest point. For example, there are also binoculars. On top of the hill there is also a white chapel (Agios Georgios) from 1870. In the summer you can also enjoy a performance in the adjacent open-air theater.
Want to dine with the best view? Then you can also visit the Orizontes restaurant that is located on this hill. Here you can eat outside with a view over the entire city. After dark, this is the perfect location for a romantic dinner. Especially in the evening the Lykavittós is very popular. It can also be very busy in the summer months.
---
Where is the hill in Athens?

Our readers say
4.8
(95.85%)
7
reviews
July 11, 2023
Ryanne

: "

We had a fantastic holiday in Athens and Greece because of the interesting tips for sightseeing, tourism and activities in Athens.

"