Athens
/
Attractions
/
Pláka & Anafiótika
Pláka & Anafiótika district
Two nice areas in the center of Athens

The Plaka district is the touristic, cozy neighborhood in the center of Athens. The adjacent Anafiótika district is a lot quieter and more picturesque.
Pláka district
The Pláka district is an original working-class neighborhood in Athens. This neighborhood is located near the foot north of the Acropolis. Today this is no longer a residential area, but a touristic and pleasant neighborhood. The neighborhood has an authentic appearance with colored houses and is full of nice streets, restaurants and bars. Due to its central location near the Acropolis, the district is also easy to reach.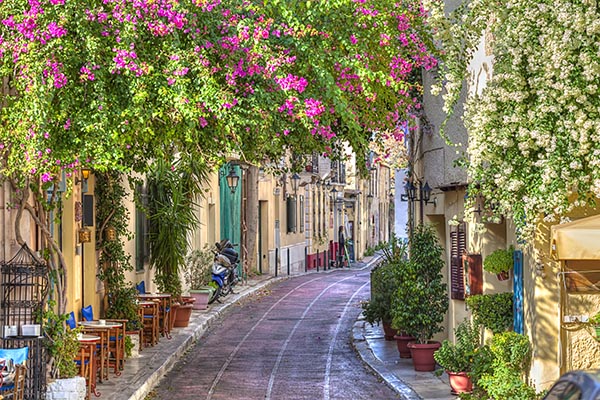 The atmospheric Plaka full of restaurants
Plaka is the spot for your souvenirs
There is plenty to visit in this district. Here you can, for example, find the archaeological sites of Hadrian's Library and visit the Roman Agora. Plaka has two main streets: Adrianoú and Kydathinéon. If you find these streets too busy, you better check out the smaller streets. Here you will find authentic souvenir shops, for example. Close to Monastiráki Square you can enjoy a drink or a meal. There are also several shops and markets that you can visit.
The Monument of Lysicrates can also be found in the Pláka district. It was made by Lysicrates, a choirmaster. He made this monument after his choir won the first prize at the festival of Dionysia. That is why you will also find the myth of Dionysos on the monument.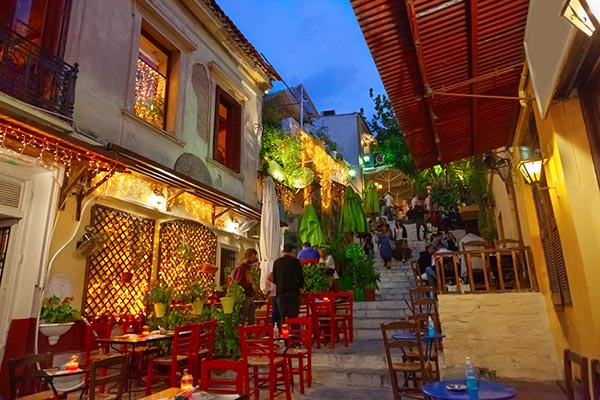 Plaka, a neighborhood of atmospheric streets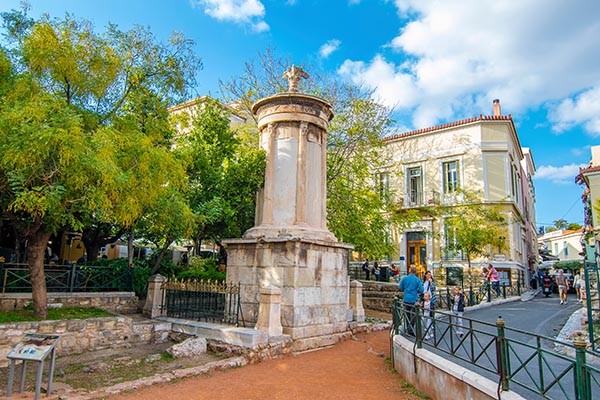 The monument of Lysicrates
Anafiótika district
Near the Plaka district you will find the Anafiótika district. This neighborhood is slightly quieter than Plaka and there are also fewer tourists. In this neighborhood it seems as if you are on one of the Greek islands because of the white houses, narrow streets and stairs. This is a more residential area where you will encounter many locals. This is perfect if you need a break from the hustle and bustle of the city. In this district you can also visit the small church of Ágios Simeónos when you walk a bit to the higher part. Nearby is a point where you can enjoy the beautiful view where it is generally not so crowded.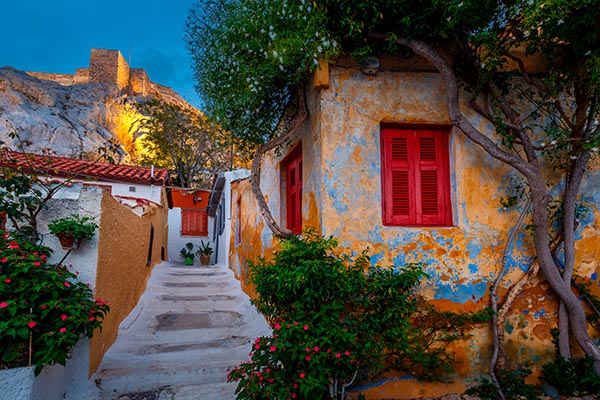 The district of Anafiótika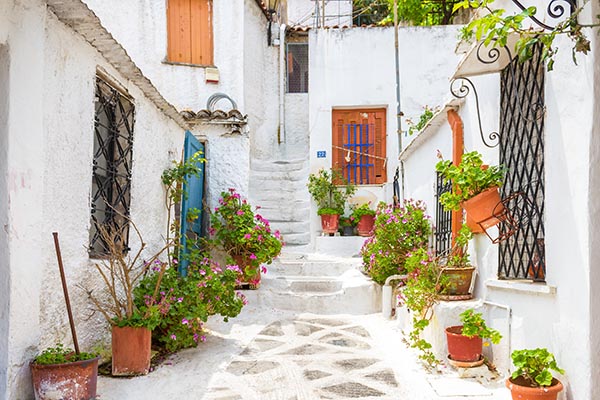 White houses and narrow streets in Anafiótika
Where is the Plaka district in Athens?

Our readers say
4.8
(95.85%)
7
reviews
July 11, 2023
Ryanne

: "

We had a fantastic holiday in Athens and Greece because of the interesting tips for sightseeing, tourism and activities in Athens.

"